Five Reasons Why Tapping Outside Cybersecurity Expertise is the Practical Way Forward for Small and Midsize Companies
Every second matters in cyberspace. It only takes one second for a potential threat to become an active one. That's why real-time detection is essential in mitigating your risk against cyberattacks. Implementing advanced threat detection requires cybersecurity experts working around the clock to monitor and respond. For organizations with limited staff, 24/7 monitoring and management is daunting.
Managing a well-performing, secure and resilient infrastructure requires advanced knowledge and expertise. Cybersecurity experts are scarce and specialized, therefore driving up costs. Often small and midsize companies can't afford to pay the premium salaries.
Information Systems Security Association (ISSA) and independent industry analyst firm Enterprise Strategy Group (ESG) reveal that the cybersecurity skills shortage is worsening and becoming a rapidly widening business problem – and is exacerbating the number of data breaches.
In this article, we share five reasons why augmenting your in-house IT staff with cybersecurity experts to manage SIEM (Security Information and Event Management) offers a practical and affordable way to accelerate threat detection and response while strengthening your security posture.
The Threat Landscape Continues to Grow in Complexity.
These cybercrime statistics are astounding:
One ransomware victim every 10 seconds in 2020 – Infosecurity Magazine
Ransomware attacks 1 in 5 Americans – Anomali and The Harris Poll
Malware increased by 358% overall in 2020 – Help Net Security
2,145,013 phishing sites registered as of Jan 17, 2021 – Google
Security Today estimates that the number of Internet-connected devices will increase from 31 billion in 2020 to 35 billion in 2021 and 75 billion in 2025. The significant demands of SIEM (collecting log and event data to provide detection and determine whether a breach or anomalous event has or is occurring) continue to grow. This abundance of information can quickly overwhelm internal IT. Many companies and IT staff do not have the time or cybersecurity expertise to assess real-time data.
When Level 1 and Level 2 IT staff handle cybersecurity, the traditional line-of-business and user support tasks get side-tracked and often deprioritized. Having a comprehensive security solution that complements your in-house IT staff would help you protect assets and data 24/7/365 against potential threats and, in parallel, achieve your general IT goals. Without addressing this common, growing problem, your internal IT staff can quickly become overworked and unhappy – and the risk for employee turnover increases.
Employee turnover is harmful to your company. The Work Institute estimates that the cost to lose an employee is around $15,000. To promote and fill the role, you may need to pay a recruiting agency and post on job boards. While the position is empty, productivity goes down, or if remaining employees pick up the additional responsibilities, their stress level increases and employee morale decreases. When you have low employee morale, it is challenging to attract top talent.
You Need a Practical and Affordable Cybersecurity Management Solution.
Once your team has developed a strategic, long-term cybersecurity plan, you need to determine the infrastructure and support to implement your strategy effectively. There are two options your organization can pursue to mitigate advanced threats, (1) hire the expert staff and build SOC infrastructure in-house or (2) partner with a cybersecurity technology firm and leverage their SOC experts and infrastructure.
A "Build Your Own" SOC tradeoff includes higher costs but, potentially, more control and flexibility. You determine your organization's risk tolerance, decide which threats fall outside that level, and implement your threat investigation and forensics accordingly. Building your own SOC also requires operating a SIEM – which is no simple task. A Build Your Own approach may initially seem more affordable, but there are many overlooked or hidden expenses with operationalizing SIEM:
Technology investments
Upkeep, management testing and validation process
Development, review, integration and documentation
On-going employee awareness and technical training
Expert cybersecurity IT resources 24/7/365 to identify, protect, detect, and respond to potential and security events and breaches.
Evaluating the Total Cost of Ownership (TCO) over time, including the implication of rising salaries, shows that co-managed SIEM or a partnership generally delivers a faster time-to-value of one to two months vs 12-14 months for Build-Your-Own environments because the infrastructure and staff already exist.
Here are five reasons why a co-managed cybersecurity partnership offers small and midsize companies a practical, affordable, comprehensive approach to improving their security profile:
Always Know What's Going On
A partnership with a Cybersecurity managed service provider is collaborative. They will keep you and your team in the loop with incident reports and recommendations, helping your team prioritize.
Keep In-House IT Staff Focused
With a partner on board, your Level 1 and Level 2 internal IT staff can stay focused on supporting and managing line-of-business applications and providing operational support for improving the user experience and boosting productivity.
Collaboration with Cybersecurity Experts Enhances Your Security Posture
With a partner managing SIEM, your internal IT team can stop chasing false alarms or minor issues. Cybersecurity experts parse the data efficiently, and you can rely on them to highlight what's important to spend time on. Cybersecurity experts collaborate with your in-house staff to inform them about what's needed to enhance your overall security posture.
Strengthen Your Security Posture Faster
With an embedded team of cybersecurity SOC experts managing SIEM, you can accelerate threat detection and realize your security goals faster. A partnership provides you instant access to skilled cybersecurity staff and infrastructure in place to complement your team.
Reduce Total Cost of Ownership
An outsourced solution provides significant cost savings vs a do-it-yourself approach because the staff and infrastructure already exist and are designed to scale efficiently. Review the chart below to see a representative example of cost savings.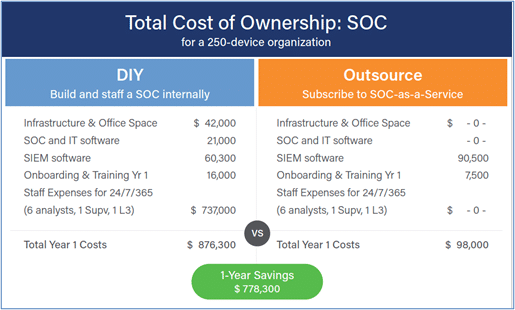 Source: Nesturion, 2021 Buyer's Guide
The IT environment requires agility and adaptation skills to succeed. Your team's ability to defuse and disarm a threat in real-time is also critical. The fastest, most practical and affordable way to support your team to prevent and monitor cyber threats is with a trusted partner that collaborates with you and your team, so you have every second covered.
There is a better way to manage SIEM and get enterprise-grade cybersecurity protection without breaking the bank – find a trusted Cybersecurity partner that can create an implementation option your budget can handle while mitigating risk.
Want to learn more? Watch our on-demand webinar: Cybersecurity, Right-Sized: How to Limit Exposure and Mitigate Risk with Co-Managed SIEM
Need help managing your business' SIEM solution? Contact the experts at KeyNet Technologies today to discuss our comprehensive Advanced Cybersecurity Services, including co-managed SIEM services!